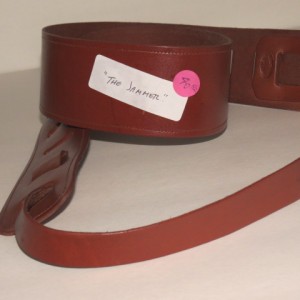 The Jammer: $40/strap* This style provides an eloquent look and feel and shows well for anyone looking for a basic "genuine leather" strap. It features hand tooled edges which adds a unique style and personal touch. You won't be disappointed. It includes a stained top side while using an all natural look and feel on the back side. It does the job well and adjusts using a traditional over and under technique on both ends. This strap is attached using a pre-cut holes and leather thongs. It can be can be used for banjo or guitar.
Standard Colors: Acorn Brown; Mahogany; Bison Brown; Light/Medium Brown; Canyon Tan; British Tan; Antique Gel Tan; Saddle Tan; Natural; Ox Blood Brown; Black.  Please call 816-224-2330 for color selection.
Product Warranty: All styles include a full 12 month warranty against any workmanship and a 16 month mold and mildew warranty. The warranty is subject to ordinary wear and use. Not valid for un-natural wear due to natural weather disasters including wind, rain and fire.